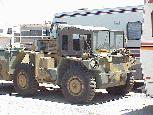 This is my fifth ex-military truck. It's a 1970 Consolidated Diesel Electric Company M561 1.25-Ton 6×6 Gama Goat. I found it on Ebay. It has 6-wheel drive, an articulated chassis (
i.e.
, the part that looks like a trailer rolls and pitches, but does not yaw from side to side like a regular trailer), 4-wheel steering (the rear axle steers in the opposite direction of the front axle, at half the rate), and it is amphibious. It has a Detroit Diesel 3-cylinder 2-stroke diesel engine, and a 4-speed manual transmission with synchromesh on second, third and fourth gears. The part that looks like a trailer is an integral part of the truck, with a driveshaft, steering linkage,
etc.
passing through the pivot point.
I sold this truck to another collector in Ohio in May of 2006. I hope he will be able to devote more time to restoring it than I could! I think this goat will clean up really nicely. A few days later, I replaced it with a
1964 M38A1 Jeep
.
Pictures
This batch of pictures was taken at the RV storage yard where I orignally kept the Goat.
Front right corner. The trailer is not visible.
6/17/01
This right side view shows all three axles.
6/17/01
The driver's compartment. It's hard to get in and out of the truck, but it's fairly comfortable after you manage to squirm in through the window.
6/17/01
Right front side, with engine access cover open. The cover is spring-loaded, and is a lot easier to open than you would think.
6/17/01
Left side of engine. The alternator is missing. I knew that when I bought it, and I already have a replacement for it… but I'll need to order another bracket to install it.
6/17/01
This next batch of pictures was taken in late 2005, after the Goat had been sitting in my field for a couple of years. The local rodents really made a mess of the insides by packing the hull with sticks and thistles. It took a couple of hours just to clear out the stuff packed around the fan so that I could start the truck, and then several more hours of work with hands, vacuum cleaner and pressure washer to get most (but not all!) of the rest of the junk out. Luckily, they didn't chew up too many wires. Grr. Well, even after sitting for a couple years, the engine started up right away after I put in fresh batteries.
Here are a few more pictures that I took on 11/20/05 after cleaning most of the rat nest out of the truck.
Here are some pictures of the old radio installation holes in the cargo carrier, taken on 5/17/06:
I sold my truck to another collector on 5/16/06. Here are pictures of it leaving for its new home in Ohio on 5/19/06:
Specifications
These specifications come from TM 9-2320-242-34, dated April, 1970, and from my truck's dataplates.
---
General Specifications
| | |
| --- | --- |
| Name | M561 1.25-Ton 6×6 Gama Goat |
| Manufacturer | Consolidated Diesel Electric Corporation (CONDEC) |
| Year | 1970 |
---
Weights
| | |
| --- | --- |
| Curb weight | 7,300 lbs. |
| Payload | 2,900 lbs. |
| Gross weight | 10,200 lbs. |
| Front axle GVW | 2,745 lbs. |
| Center axle GVW | 3,900 lbs. |
| Rear axle GVW | 3,555 lbs. |
---
Dimensions
| | |
| --- | --- |
| Length | 226.6 in. |
| Width | 83.80 in. |
| Height (GVW) | 90.80 in. |
| Reducible height (GVW) | 65.00 in. |
| Tread | 72.00 in. |
| Ground clearance | 15.00 in. |
| Pintle height | 22 in. |
---
Engine
| | |
| --- | --- |
| Make | Detroit Diesel |
| Series | 3-53 |
| Type | Liquid cooled, vertical in-line, two cycle, three cylinder diesel |
| Displacement | 159.3 cubic in. |
| Horsepower | 103 HP at 2,800 RPM |
| Torque | 217 lbs-ft. at 1,500 RPM |
| Firing order | 1-3-2 |
---
Transmission
| | |
| --- | --- |
| Type | Manual shift |
| Speeds | Four forward, one reverse |
| Synchromesh shift | 2nd, 3rd, 4th gears |
| 1st gear ratio | 7.06:1 |
| 2nd gear ratio | 3.58:1 |
| 3rd gear ratio | 1.71:1 |
| 4th gear ratio | 1.00:1 |
| Reverse gear ratio | 6.78:1 |
| Lubricant capacity | 5.5 pints |
---
Transfer
| | |
| --- | --- |
| Ranges | High – low |
| High ratio | 1:1 |
| Low ratio | 1.79:1 |
| Torque rating | 2,500 lbs-ft. |
| Lubricant capacity | 4.5 pints |
---
Differentials (front, center & rear)
| | |
| --- | --- |
| Type | Dual pack limited slip |
| Ratio | 5.57:1 |
| Lubricant capacity | 4 pints |
---
Electrical System
| | |
| --- | --- |
| Voltage | 24 VDC |
| Amperage | 60 A |
| Battery type | 6TN, 12 V, 100 AH |
| Battery quantity | two, series connected |
| Alternator | 24 VAC 60A |
---
Fuel System
Capacity
40 gallons (2 tanks, 20 gallons each)
Recommended fuel
Diesel VV-F-800
Jet MIL-J-5624
CITE MIL-F-45121A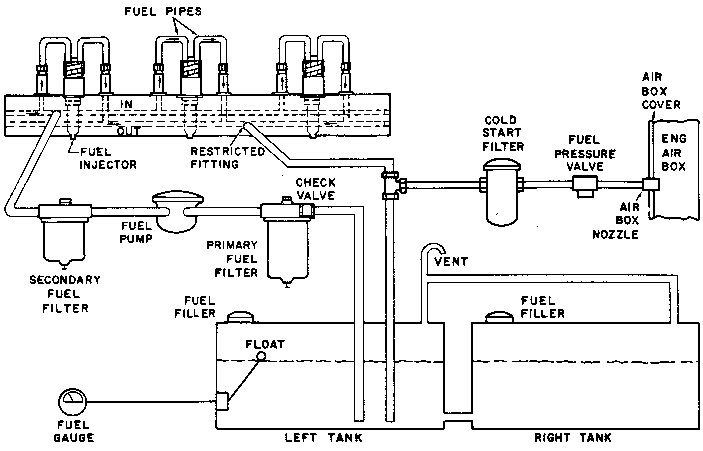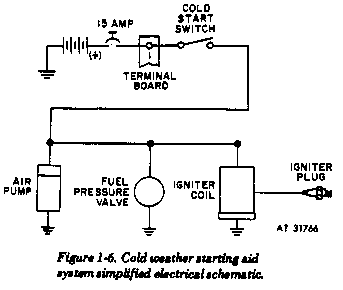 ---
Cooling System
| | |
| --- | --- |
| Capacity | 19 quarts |
| Normal operating temperature | 160-200°F |
| Normal operating pressure | 7-14 PSI (MAX) |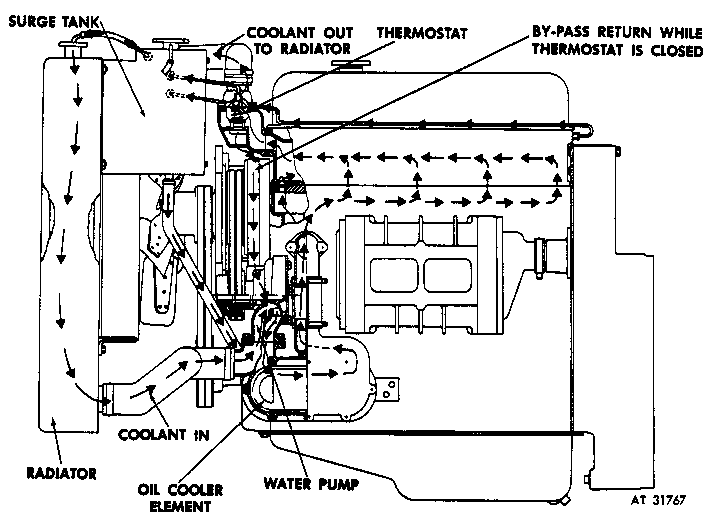 ---
Steering System
| | |
| --- | --- |
| Type | Mechanical front and rear, simultaneously operated |
| Steering ratio | 24:1 |
| Turning radius | 29 feet |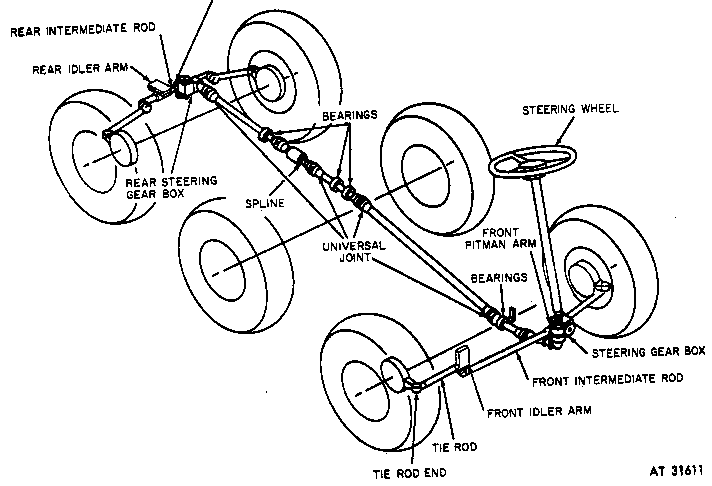 ---
Suspension
| | |
| --- | --- |
| Front and rear | Independent coil springs at each wheel |
| Center | Single leaf spring and swing axle |
---
Service Brakes
| | |
| --- | --- |
| Type | Hydraulic, internal expanding, sealed drum Duo-servo master cylinder |
| Air pressurization | 5 PSI |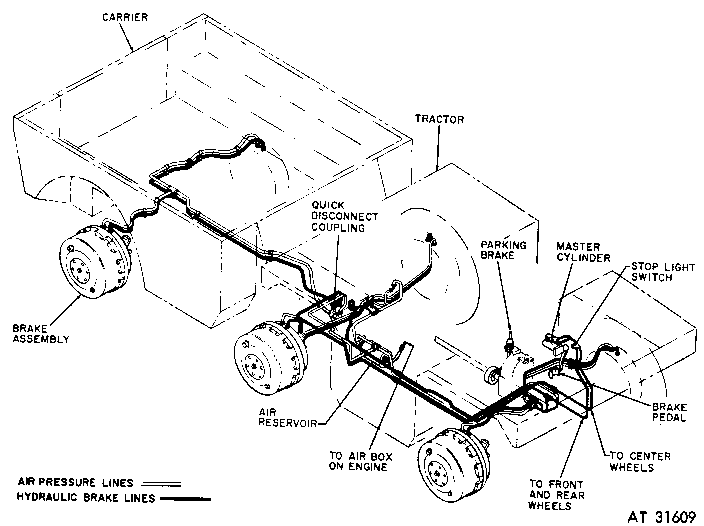 ---
Bilge Pump
| | |
| --- | --- |
| Type | Electrically operated |
| Rating | 54 GPM at 27.5 volts |
---
Articulation
| | |
| --- | --- |
| Roll at center axle | +/- 15° |
| Roll at rear axle | +/- 30° |
| Pitch at rear axle | +/- 40° |
| Wall climb (vertical) | 18 in. |
| Angle of approach | 62° |
| Angle of departure | 45° |
| Hump angle | 140° |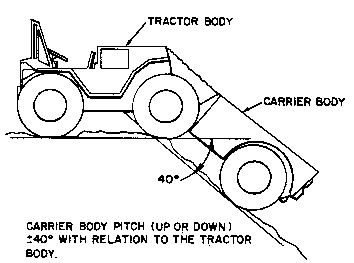 ---
Tires
| | |
| --- | --- |
| Type | 11:00×18 NDCC, tubeless, 6 ply rated |
| Highway pressure | 22 PSI |
| Cross-country pressure | 18 PSI |
| Snow pressure | 12 PSI |
Timeline
| | |
| --- | --- |
| 6/17/2001 | My truck arrives from Escanaba, Michigan, on a flat-bed semi-trailer. I unloaded it with my M543A2 5-ton 6×6 wrecker, by lifting the rear end of the truck, having the driver pull his trailer forward until the front wheels of the Goat were near the back edge of the trailer, lowering the back end to the ground, pulling my wrecker around to the side of the trailer, lifting the front end of the Goat, having the driver pull the trailer forward again, and lowering the front end to the ground. It would have been much easier to hire the services of a tilt-bed wrecker, and it even would have been cheaper than the lifting sling I built, but it would have been a lot less fun! Unfortunately, I didn't find out the delivery date until the last minute, and I wasn't able to draft somebody to take pictures of the unloading process. The pictures would have been pretty neat. |
| 5/19/2006 | I sold my truck to another collector in Ohio a few days ago, and it left for its new home this morning. I hope he will be able to put more time into restoring it, because I think it will clean up very nicely. I sold it for what I had into it minus the original shipping from Michigan, and I've driven it 23 miles while I had it. Those were some expensive miles, huh? |
| 5/23/2006 | Today I bought my replacement for the Gama Goat: a 1964 M38A1 Jeep |