Here are a few pictures I took at the 1999 Military Radio Collector's Group meeting at Camp San Luis Obispo in San Luis Obispo, CA. This meeting was held on Friday, April 30 and Saturday, May 1, 1999. The 2000 MRCG meeting will be held on Friday, May 5 and Saturday, May 6, 2000.

Please comment if you find any errors in my captions, or if you can add any more information (such as the names and/or call signs of some of the people pictured… I'm really awful at remembering names!).
These pictures are a bit grainy; I had just bought my new digital camera, and didn't know its ins and outs yet. I hope my pictures turn out better next year… I took about 100 pictures at the MRCG meet, and I can send them by email upon request, but make sure that your email feed and mail reader software can handle a 13-megabyte uuencoded tar file first!!
---
The Swap Meet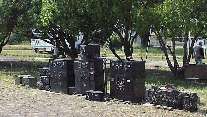 Some Big Radios were on sale at the swap meet. The three big guys, from left to right, are a BC-610-H, a BC-610-I, and a BC-610-E with a BC-639-B antenna tuning unit on top. Phil Epstein, K0XI drove these hulks of classic big iron all the way from Minnesota. Now there's somebody dedicated to his hobby! To the left of the BC-610s are a WW-II vehicular radio set which includes a BC-604 transmitter and two BC-603 receivers (I don't know the name of the set), and a stack containing a BC-348-Q receiver, a BC-614-H speech amplifier, and a JB-70-A junction box. On the right side of the big guys are an
AN/GRC-7 set
and an
AN/VRC-7 set
. The box in front of the big transmitters is a BC-614-I speech amplifier. At least one of the big transmitters was on the air on Friday. I don't know anything about the big transmitters; I'm part of the green-radio crowd, and I don't know much about black radios yet. :-)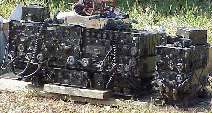 Here's a close-up of the
AN/GRC-7
and
AN/VRC-7
sets. I guess the set on the left could be an
AN/GRC-3
or
AN/GRC-5
, but I forgot to take pictures of the nameplates for later identification.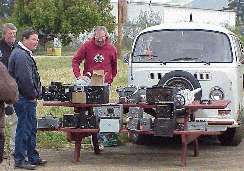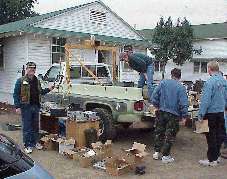 Here are a couple more popular offerings. In the first picture, the guy at the far left (facing the camera) is Bjorn Forsberg, SM5UR/6, and the guy in the red sweatshirt is Jay Coward.
In the second picture, Richard Mollberg, K6PWF, looks mighty pleased with that mounting he's holding.
Can anybody help me remember anybody else's names? Did I identify anybody incorrectly?
---
The Presentations
I didn't take any notes or pictures during the presentations this year; I just watched and listened in awe. I was really floored by Dennis Duvall's slide show of shipboard radio systems. How do those ships float with so many radios in them?!
For more details about this year's great presentations, take a look at Dennis's article in the June, 1999 issue of Electric Radio.
---
The Displays
The displays in the NCO club are always my favorite part of the MRCG meets. Usually, at least half of the radios on display are operating at the show. Only a ham would see a point in making radio contact with another guy in the same room. :-)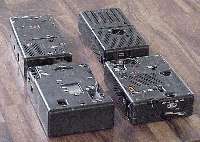 An RS-6 "spy radio" set was on display. See
Pete McCollum's paper
for more information about clandestine radio sets.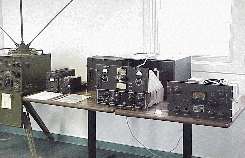 From left to right, here are a R-395/PRD-1 RDF rig, some ARC-5 (?) Command Set radios, a CND-20131 power supply for the RAK-7 and RAL-7 radio sets, and a model SLR-F radio receiver.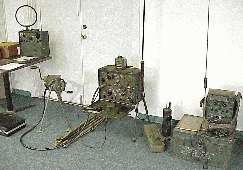 The radio on the left with the circular loop antenna is a U.S. Navy type DAG. The other radios are a BC-654-A with a hand-crank generator, a BC-611, and a TBY-8.

I displayed an AN/PRC-10A with an AM-598/U vehicular power supply, an AN/PRC-10 in backpack configuration, and a German SEM-35. The AN/PRC-10A and SEM-35 were on the air, but the AN/PRC-10 was not operational. The SEM-35 was well-liked because it runs on common D-cell batteries.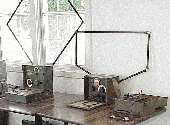 Here are some pre-WW-II radios: a BC-148 (used from the late 1930's through mid-WW-II), and a BC-9 (used from about 1922). Bjorn Forsberg, SM5UR/6, presented a very interesting history of these radios during the meeting.

Bjorn always brings interesting foreign radios which few American collectors have ever seen before. From left to right: a U.S. TBY-8, a Danish PPC-361, and Swedish RA200 and RA122 manpack sets. The RA200 covers 2-16 MHz AM & CW with 1W or 10W out, and the RA-122 covers 40-78 MHz FM with 3W out. Unlike common U.S. hand-crank generator sets such as the GN-58, the generator on the floor allows one person to simultaneously pedal the generator and operate a radio.
---
Vehicles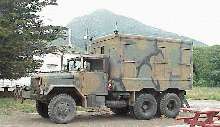 Victor Valdez arrived in style in his M109 2-1/2-ton "deuce-and-a-half" shop van this year (it may have been an M109A2, M109A3, etc…). He drove up during a raging mock firefight between a couple groups of National Guard troops, complete with plenty of smoke and full-auto weapons fire (blanks, I assume…), all within 100 yards of where we were standing. As soon as he drove up, we lost all interest in the smoke, explosions and weapons fire across the street and ran over to check out his truck. :-) We suspect that the troops hiding in the tall grass and sniping at each other were annoyed a bit earlier when Hank drove by in his Jeep, smiling and waving at them.
By the way, I bought my own M109A3 shop van in late September, 1999. If you're curious, read about it here.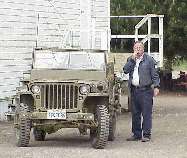 Hank Brown, W6DJX calls for air support on the AN/GRC-9 "Angry-Nine" in his 1942 Ford GPW Jeep.
---
Great Food
If you ever go to the annual MRCG meeting, stop by Jocko's in Nipomo (about 1/2 hour south of San Luis Obispo) for some of the best steak anywhere! (I'm not affiliated with them; I just think they cook great food.)