Here are some pictures that I took at my team's site during the 2005 Military Radio Collector's Group Field Exercise, on November 5, 2005 near Fort MacArthur in San Pedro, California. Bill Feldman N6PY and I set up in a parking lot at Friendship Park, with a nice view overlooking the ocean. We fielded a BC-1306 HF backpack transceiver, a BC-659 10m FM transceiver, and my Chinese Type 102E HF transceiver.


---
In the first round, David Reid W6KL showed up on his Harley Davidson motorcycle, and delivered his message in person. We were expecting to contact him on the air, but this was one of the plot twists that Dennis W7QHO threw in.


Here's a short Quicktime movie of David departing for his next rendezvous.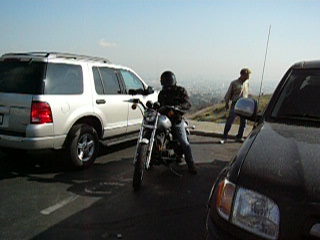 A BC-659 10m FM transceiver loaned to us by Dennis DuVall W7QHO, Bill Feldman N6PY's BC-1306, and my Chinese Type 102E are shown here.



Our view of the ocean was pretty nice after the haze cleared. Unfortunately, I took this panoramic sequence of pictures before that.