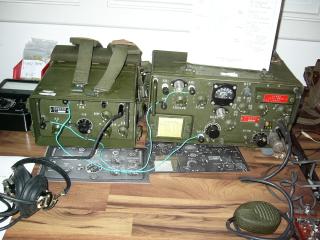 I bought this Chinese HF transmitter/receiver set from seller
redstarradio
on
eBay
back around March, 2005. It came as a complete new set including the manuals, spares, tools, test equipment, etc. that would normally be issued with the set, all in original packaging. It was a lot of fun to unpack a brand new complete radio set in pristine condition! The historian in me felt bad about destroying the original packaging, but I just
had
to play with the radio! I compromised by
carefully photographing everything as I unpacked it
, paying special attention to packaging methods and markings.
The receiver operates from a battery which provides 90V for the tube plates and 1.5V for the filaments. It's not too hard to fabricate a replacement battery pack from 10 each 9V batteries and a D cell. There is also a provision for external power, and the set includes a cable which plugs into the receiver and has bare, tinned, labelled wires at the other end for connection to an external power sourceq. The transmitter is powered by a hand-crank generator. According to the manual, it appears that various dynamotor supplies were used in place of the hand-crank generator in vehicular installations.
The manuals supplied with the set show the transmitter and receiver installed in the same cabinet, while the sets sold on eBay have the transmitter and receiver installed in separate cabinets. I don't know if the different cabinet/installation options get different type numbers, or whether "Type 102E" is really the correct designation for my set.
I asked one of my Chinese-speaking co-workers to translate the front panel markings for me. Here are a pair of modified pictures of my radio set, showing the control, connector and indicator functions in English:
| | |
| --- | --- |
| | |
| Receiver | Transmitter |
Both units actually have the same color of paint… I'm just not a great photographer! Though I don't have a literal translation at this time, I've been told that the red plate on the transmitter's crystal cover contains inspirational instructions from Chairman Mao, telling the operator to go kick some capitalist ass. I think that the red plates on the removable front panel covers are similar.
---
Specifications
Receiver
Type
Superheterodyne
Frequency Range
2-12 MHz in three bands:

| | |
| --- | --- |
| Band 1: | 2-3.8 MHz |
| Band 2: | 3.8-7 MHz |
| Band 3: | 7-12 MHz |

Sensitivity (CW)
7μV
Sensitivity (phone)
14μV
Selectivity
3dB passband ≥ 4kHz. Stopband ≥ 10dB down at 12kHz.
Audio Output
50mW
Tube Lineup
7 Tubes:

| | | |
| --- | --- | --- |
| V201 | 1K2 | RF amplifier |
| V202 | 1A2 | Mixer |
| V203 | 1K2 | 1st IF amplifier |
| V204 | 1K2 | 2nd IF amplifier |
| V205 | 1B2 | Detector |
| V206 | 2P2 | Audio amplifier |
| V207 | 1A2 | BFO |

Power
90VDC, 1.5VDC
---
Transmitter
Modes
CW, AM, MCW
Frequency Range
2-10 MHz in three bands:

| | |
| --- | --- |
| Band 1: | 2-3.7 MHz |
| Band 2: | 3.6-6.8 MHz |
| Band 3: | 6.6-10 MHz |

Power Output (CW)

| | |
| --- | --- |
| Band 1: | 13W |
| Band 2: | 13W |
| Band 3: | 10W |

Power Output (AM and MCW)
3.2W
Power Supply
Hand-cranked generator:

| | |
| --- | --- |
| A Supply: | 6.3V 2.3A |
| B Supply: | 425V 110-145mA (CW) |

Dynamotor (for vehicular installations)

| | |
| --- | --- |
| A Supply: | 6.3V 2A |
| B Supply: | 500V 110-145mA (CW) |

Power output is 10% higher with 500V input.

Antennae

| | |
| --- | --- |
| (a) | 64m dipole |
| (b) | 32m inverted-L |
| (c) | 4.8m whip |

Tube Lineup
4 Tubes:

| | | |
| --- | --- | --- |
| V101 | 2P3 | Master Oscillator (VFO or crystal-controlled) |
| V102 | 2P3 | Frequency Doubler |
| V103 | FD-422 | Power Amplifier |
| V104 | 2P3 | Amplitude Modulator/MCW Oscillator |