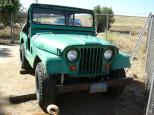 I bought this 1964 USMC Jeep right after I sold my
M561 Gama Goat
. This is my first military Jeep, and I think it will fix up nicely. It has a coat of what looks like Forest Service green over the original USMC semi-gloss paint. While it has some civilian modifications like a roll bar (not that it would help too much in a roll-over, as it's bolted to the body, not the frame), it's not too badly hacked up.
Pictures
These are the "wrong" tires and wheels that came with the Jeep. I plan to put properly-sized tires (though they might not be military NDCC tires) on the truck eventually, and then probably sell off these big wheels.
Cosmo poses for a picture, and Sweet Pea sneaks into the frame, too.

These three wheels were also provided with the truck. If they're the right kind, then I'll just need two more to put proper wheels on it.
Here are my new reproduction parking brake parts from Midwest Military. The lower lever and stop plate are in the white, so I'm sandblasting, priming and painting them before installation.

My steering wheel could use some repair:
My serial number dataplate behind the passenger seat appears to be stamped. Earlier plates that I've seen pictures of appear to be etched.
Specifications
---
General Specifications
Name
M38A1 1/4-Ton 4×4 Utility Truck
Manufacturer
Kaiser-Jeep
Year
1964
Maximum Height
73-3/4 in
Minimum Height
(over steering wheel)
56-1/2 in
Length
138-5/8 in
Width
60-7/8 in
Electrical System
24 Volt
Number of Batteries
2
Minimum Ground Clearance
9-5/16 in
Loading Height (empty)
28 in
Towing Pintle Height
21-1/2 in
Tread (Front)
49-1/8 in
Tread (Rear)
49-3/16 in
Wheelbase
81 in
Payload

| | |
| --- | --- |
| Cross-country: | 800 lbs |
| Highway: | 1,200 lbs |

Weight w/o Crew

| | |
| --- | --- |
| Empty: | 2,665 lbs |
| Cross-country: | 3,465 lbs |
| Highway: | 3,865 lbs |

Passengers (including crew)
4
Tire Pressure
28 PSI
Size
7.00 x 16
---
Performance
Allowable Speed
(Transfer: High Range)

| Gear | Speed |
| --- | --- |
| 1st | 24 mph |
| 2nd | 40 mph |
| 3rd | 60 mph |
| rev | 16 mph |

Allowable Speed
(Transfer: Low Range)

| Gear | Speed |
| --- | --- |
| 1st | 9 mph |
| 2nd | 16 mph |
| 3rd | 24 mph |
| rev | 6 mph |

Approach Angle
46 deg
Departure Angle
34 deg
Cruising Range (loaded)
280 mi
Cruising Speed
55 mph
Engine Horsepower
72 bhp at 4,000 RPM
Fording Depth
37-1/2 in
Towed Load

| | |
| --- | --- |
| Cross-country: | 1,500 lbs |
| Highway: | 2,000 lbs |

Turning Circle Diameter

| | |
| --- | --- |
| Left: | 38 ft |
| Right: | 38 ft 8 in |