The SCR-619 radio set could be deployed in several different configurations, including vehicular and man-portable. In a man-portable configuration, the BC-1335 transceiver and CH-191 battery box would be installed on a common pack frame with an FT-505 mount. These mounts seem to be quite rare, as I've only found about two or three collectors who have them or have ever seen one for sale. A few months before the 2010 West Coast Military Radio Collector's Group annual meeting, Paul Thekan kindly loaned me his FT-505 so that I could photograph it, measure it, and display it with my SCR-619 set at the meeting. I didn't just photograph it, though… I also created a 3D CAD model of it, with thoughts of someday fabricating a reproduction.
Here's the mount as I received it from Paul, screwed to a piece of wood for shipping.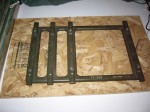 Here are some detailed pictures that I took while measuring its dimensions. It's made from cast aluminum rails which are riveted to a stamped aluminum base with solid aluminum rivets. Based on a verbal description from another FT-505 owner, I believe that there was at least one other FT-505 variant which was manufactured differently.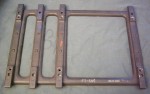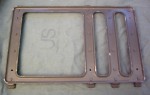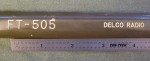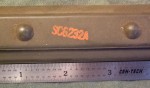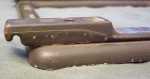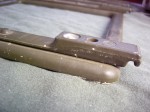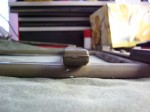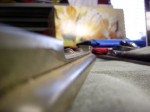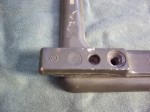 Here's my SCR-619 mounted on the FT-505.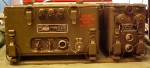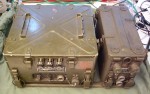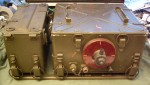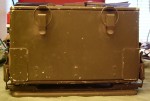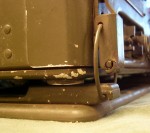 I bought an original WW2 pack frame through eBay, and then mounted the FT-505 onto it as specified in the SCR-619 manual.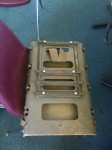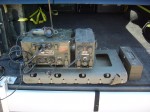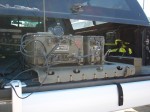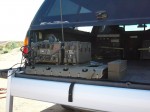 I displayed the set at the 2010 MRCG event, and then handed the mount back to Paul at the conclusion. I also gave him the pack frame as a thank-you gift. I have another pack frame, which is waiting for me to either find an FT-505 for myself or construct a reproduction.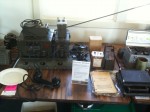 While I had the mount, I created a 3D model using the
Cobalt
modeling software from
Ashlar-Vellum
. Here are some renderings of my model.