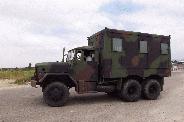 This is my fourth ex-military truck. It's a 1970 Kaiser-Jeep M109A3 2.5-Ton 6×6 Shop Van. I bought it as a replacement for my
first military truck
, which is also an M109A3, but which needs a lot more cosmetic restoration.
I sold this truck in September, 2005, and I've preserved the for-sale listing because it has lots of good pictures of the truck.
Pictures
My truck arrives from Maryland, on the back of a drop-deck disconnect trailer.
6/13/01
Getting ready to jump-start it with my M543A2 Wrecker.
6/13/01
As the driver who delivered my truck guides me, I back my truck off the trailer that carried it across the continent. I hardly even felt the 10 inch drop off the end of the trailer.
6/13/01
Free at last!
6/13/01
Safe and sound in my driveway, a few miles away from the unloading point. I told my neighbors that it'll only be there temporarily. Only time will tell if that was an accurate statement… :-)
6/13/01
Here I am picking up an AN/GRC-122B radio teletype (RTTY) system mounted in an S250 shelter. Part of the deal was that I had to take the 1.5-ton trailer that the shelter was sitting on. I probably will mount the shelter on my HMMWV eventually, and then sell the trailer. The March ARB airfield is in the background.
9/13/03
Van Conversion Pictures
Here are some pictures of work-in-progress on my conversion of this truck to a camper/radio truck. I'll update these pictures and/or move them to a different page later.
I replaced the original 120VAC 60A Arktite connector with an 120/240VAC 60A IEC-309 pin and sleeve connector. It has the same mounting bolt pattern as the original connector, but lets me deliver twice as much AC power to the van body. I'll paint it to match the vehicle later. I'll replace the cable with a larger one later; this one lets me plug the van into a 120/240V 20A outlet in my garage to run the lights and outlets in the van while I work. This picture also shows part of the copper fuel line for the van body heater.
5/1/02
Here's the fuel pump for the van body heater. I'll fabricate a cover for it later.
5/1/02
Here's a view of the left side of the van body. I'll put a self-contained porta-potty in the left rear corner, under the ventilation blower. This picture shows the laundry tub that I'm installing, and the twin-size bed, mounted on a pair of lockers for storage, with a pair of 36-gallon water tanks underneath. I'll mount a refrigerator, microwave oven, and additional storage under the bed, in between the lockers.
5/1/02
Here's a view of the right side of the van body, showing the two-story 10 foot wide by 2 foot deep workbench I installed for radio gear. The workbench tops are 1-3/4″ thick solid maple butcher blocks. I haven't installed any radio gear yet. The big box with two meters on the floor is a PP-4763A 28V 50A power supply, and the silver toolbox (which I may paint later) contains a pair of 12V Optima deep-cycle batteries.
5/1/02
This picture shows the AC power boxes. I kept the original switch for the AC lights, but replaced everything else. Also shown are my home-made control box for the fuel-fired heater and a circuit breaker box for power from the vehicles 24 VDC electrical system.
5/1/02
I didn't like the way the original AC wiring was done, so I removed the original harness and re-wired everything with surface-mounted conduit.
5/1/02
This picture shows the PP-4763A 28V 50A power supply (which is mounted on equipment slides so it can be slid out for service), the battery box, and a junction box which allows the batteries to be charged through blocking diodes from various sources, including the power supply and the vehicle's 28 VDC electrical system. The batteries supply power to all of the 28 VDC accessories (including most of the radio gear) in the back of the van.
5/1/02
Specifications
---
General Specifications
Name
M109A3 2.5-Ton 6×6 Shop Van
Manufacturer
Kaiser-Jeep
Year
1970
Cargo capacity
Cross-country: 5,000 lbs
Highway: 7,500 lbs
Towed load
Cross-country: 6,000 lbs
Highway: 10,000 lbs
Height
130 in (10 ft 10 in)
Length
268 in (22 ft 4 in)
Width
98 in (8 ft 2 in)
Weight
Empty: 14,930 lbs
Gross (cross-country): 19,430 lbs
Gross (highway): 21,930 lbs
Van deck height
50 in
Rear door opening
Height: 70 1/2 in (5 ft 10 1/2 in)
Width (one door open): 31 3/4 in (2 ft 7 3/4 in)
Width (both doors open): 51 3/4 in (4 ft 3 3/4 in)
Van interior dimensions
Height at center: 77 1/2 in (6 ft 5 1/2 in)
Width: 90 in (7 ft 6 in)
Length: 144 1/2 in (12 ft 1/2 in)
Pintle height
36 1/8 in
Ground clearance
Under axle: 12 1/2 in
Under chassis: 10 15/16 in
Vehicle/bridge classification
Empty: 7
Cross-country: 9
Highway: 10
Wheel base
154 in (12 ft 10 in)
Approach angle
47 deg
Departure angle
40 deg
Turning radius
36 ft
Cruising range
300 mi (max payload, @ 1500 RPM)
275 mi (max payload + max towed load, @ 1500 RPM)
Fording depth
30 in
Tires
9.00 x 20, 8 ply. Tire+wheel weighs around 200 lbs.
Tire inflation
Highway: 50 psi
Cross-country: 35 psi
Mud, sand, snow: 15 psi
Brakes
Hydraulic, with air boost and glad hands for towing trailers with air brakes
---
Engine
| | |
| --- | --- |
| Engine | Hercules LD-465-1C 6-cylinder multifuel diesel with turbocharger |
| Power | 130 HP at 2600 RPM |
| Torque | 305 pound-feet |
| Displacement | 478 cu. in. (7.8 liters) |
| Engine weight | 1,650 lbs |
| Idle speed | 800-850 RPM |
| Operating speed | 1500-2600 RPM |
| Oil pressure at idle (min) | 10 psi |
| Oil pressure at full power (max) | 75 psi |
| Coolant temperature | 180°F to 200°F |
| Fuel consumption | 5-6 mpg |
---
Fill Capacities
| | |
| --- | --- |
| Cooling system | 32 quarts |
| Differential | 6 qts (each of 3 diffs) |
| Engine oil (crankcase only) | 20 quarts |
| Engine oil (crankcase and filters) | 22 quarts |
| Fuel | 50 gallons |
Timeline
| | |
| --- | --- |
| 6/13/2001 | My truck arrives from Maryland. |
| 5/6/2002 | Lately, I've been working on converting this van into a combination camper and radio truck. Of course, this isn't a "correct" configuration! I still have a lot of work to do, but things are starting to get interesting… |
| 9/14/2005 | Truck sold. I realized that I wouldn't use it as a camper/radio truck I intended to, because I don't like driving big trucks that much. |