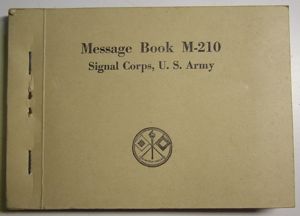 Message Book M-210 was, as far as I have been able to determine, the standard form for recording message traffic during World War 2. A great deal of rigorous procedure was necessary to reliably route message traffic, and part of that procedure involved composing messages on the standardized carbon-copy forms in Message Book 210 prior to submission to message centers for routing. The same forms were used by message centers when transcribing messages (for example, after encrypting them with
Converter M-209
), when receiving messages sent via radio, etc.
If you're interested in learning more about the details of handling message traffic during WW2 (including information about how Message Book M-210 was used), I recommend watching the following training film:
Training Film T.F. 11-671: Message Center Procedure for Division and Higher Headquarters (1942)
---
Description
Many varieties of Message Book M-210 were printed during WW2, but as far as I know the differences were minor and cosmetic. The pictures and description ere are based on one original example of Message Book M-210, which I purchased as unused surplus from Fair Radio Sales Co. Inc.
The book has overall dimensions of approximately 6-1/8″W x 4-1/4″H x 1/2″ thick. Inside the book are 25 each triplicate message forms for regular use, three each duplicate forms for carrier pigeon use, and 25 sheets of tracing paper. The back cover has an extension that can be placed under the topmost form, so that it can be filled out without marking the carbon-copies of the following forms. The book also includes instructions for its use and a list of authorized abbreviations.
Each form is 4-3/4″W x 4-1/2″H when torn out, and includes various fields which must be filled out at different stages during a message's journey to facilitate tracking and routing.
Other web pages covering Message Book M-210 may be found here and here.
---
Pictures
Click on the thumbnail pictures to see larger versions.
---
Reproduction Message Forms
While unused surplus message books may still be available from sources such as eBay, there's no need to use up original forms if you want to add some flavor to a historical re-enactment, WW2-related display or activity, etc. I've drawn up a reproduction of the message forms in my example of Message Book M-210, making it as close as possible to the originals' appearance given the fonts available on my computer. I provide it here as a PDF file which may be printed on regular paper and then trimmed to size. For best results, print on 8-1/2″ x 11″ US letter-sized paper with no scaling. Each sheet may be cut into two blank forms, using the crop marks as guides. Here is the printable PDF file:
Each form should look like this when printed out: