Today was all set up to be a pretty exciting day. I got the go-ahead on Tuesday to pick up my new M923 5-ton 6×6 truck that I won in a government auction a couple weeks ago, and I made arrangements to have the truck towed home on a flatbed Landoll trailer by a local towing company I've used before. I got everything set up to have the truck picked up this morning: appointment with Government Liquidation for a morning pickup, scheduled the pickup with the towing company, faxed the towing company the paperwork they'd need for the pickup, scheduled a vacation day from work… everything was set up.
Well, except for one small detail: Actually dispatching the truck driver. (note: See below for update; all is cleared up now.)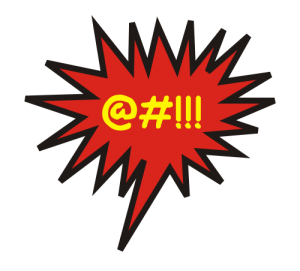 I called the towing company around 15:30 to see if the truck driver had an ETA yet, and the lady who answered said she'd need to check and call me back. When she called back, she let me know that the paperwork got lost under a pile of other papers, and the truck never got dispatched. She scrambled the driver out the door, but I had to explain a couple times that he couldn't just show up at a locked contractor's yard on an active military base in the evening, and expect to pick up the truck. Saturday would be out, too.
Looks like I'll be making a new appointment next week. With a different towing company, naturally. And burning another vacation day.
My thanks go out to Stefan-Xp for the Angry Talk artwork.
Update, 3/26/2012
I just spoke with the manager of the as-yet-unnamed towing company to express my displeasure about last week's events. He agreed do to the tow himself on Wednesday morning, at a discount, and hold the truck at his yard for a late evening delivery so I don't need to take another day off work. So, this may turn out OK after all. I will say that what a person or business does after making an honest mistake is more important to me than that they made the mistake in the first place, and so far it appears to me that the towing company is trying to make things right. I hope to have a new blog post by this weekend with pictures a-plenty of my new truck, and with any luck, also including some good words for the towing company.
Update again, 3/28/2012
The truck is home! I'm very happy with the truck, and I consider things to be squared up satisfactorily with the towing company. I'll use them again… in fact, probably this Friday to recover a trailer that I bought in another GL auction out of Barstow. Today's delivery went smoothly; more smoothly than I expected, even, since it turns out that my truck runs well, and the driver was able to unload it at a convenient spot and then drive it the last quarter mile to my property. This truck is made for off-road use, and it handled my dirt roads much better than the towing company's low-deck over-the-road rig would have.