I have a HMMWV. It's a 1986 USMC M998 that I bought back in December of 1999. It was stripped of all accessories when I got it, and it had some mechanical issues to work out, but I fixed it up into a well-running truck… and it only stranded me 250 miles from home once! :) This is my rambling post in which I consider whether and how to reconfigure my truck again.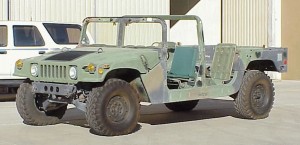 I've reconfigured my truck several times. After its initial state of embarrassing nudity, I've fixed it up as a 4-door cargo truck with soft top (both with and without the cargo area cover), a 2-door cargo truck with troop seats and cargo area cover (when I moved from Lake Forest to the rural outskirts of Riverside, most of my junk traveled in the back), and finally as a communications shelter carrier. That last make-over was the most complex so far, as it involved finding the proper shelter mounting frame and upgrading the rear suspension with longer springs, different spring seats, and different lower rear A-arms.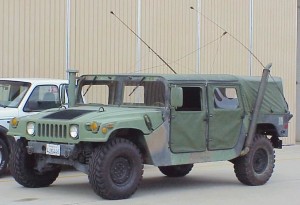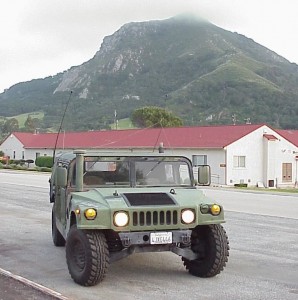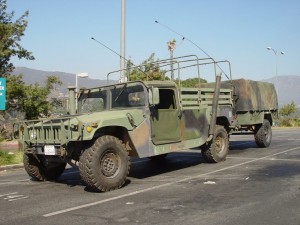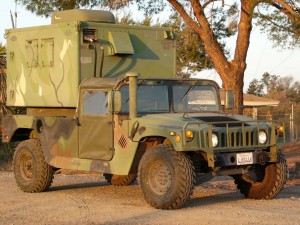 Along the way, it's received various other upgrades: brush guard (the old angle iron style), rear "airlift" bumper, VRC-12-series radio set, fiberglass "X" doors, and probably other stuff that I've forgotten.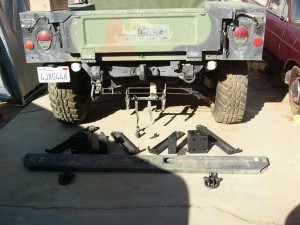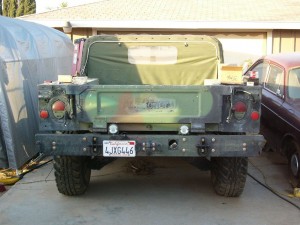 My truck has been stranded in the back of my barn behind lots of junk since I moved in after building on my property, which was just five acres of dirt covered with dead grapefruit trees when I got it. I'm finally starting to clean up the barn so that I can resume playing with the HMMWV, set up my machine tools, and all of that fun stuff. Now that I'm thinking about trucks again, I've started accumulating parts for my next round of HMMWV upgrades. On eBay, I picked up the rear brake upgrade kit which replaces the cheesy driveline parking brake with a setup that mechanically applies both rear disc brakes for parking. I picked up an Ibis Tek spare tire rack, and their matching jerry can holder. I had already picked up the 3-point seatbelt MWO kit (the whole thing, including the reinforcing plates that need to be riveted and bonded in place around the base of the B pillar), a latching parking brake handle, and a pile of parts to add a park position to my truck's 3-speed Turbo Hydramatic 400 transmission.
As and aside, I don't think those Ibis Tek racks will go in without a fight. One of the side effects of the shelter carrier configuration is that the tailgate gets moved a few inches aft, since it mounts on the shelter mounting frame instead of the rear of the bed. I think that the relocated tailgate will interfere with the racks, so I expect that I'll need to move the bumper aft by a few inches. I figure I'll cut and drill some blocks of aluminum into spacers that I can install between the bumper and its brackets. I'll also need to cut and extend the trailer plug, since its wires already barely reach far enough to mount the plug on the bumper.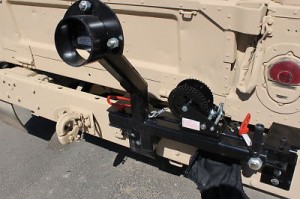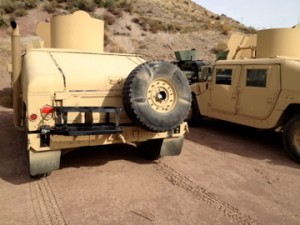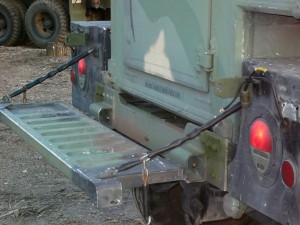 One thing about that shelter is that it really changes the way the truck drives. A naked HMMWV feels pretty nimble, but the added weight of that shelter makes it into more of a lumbering pig off road. On road, the ram air hitting the front of the shelter blows down the front of the shelter and beats the snot out of the rear of the soft cab cover, making it luff like a sail in a hurricane. With that in mind, one of the upgrades that I've been considering is a home-made 2-door hard top. I figure that I'd make the rear cab wall from 3/4″ plywood skinned with sheet metal, since the wind blowing down the front of the shelter at highway speed is so strong and rough. The flat portion of the top would be aluminum diamond plate, reinforced inside to make it nice and stand-on-able. The curved corners would be lighter sheet metal, and I'd use the existing side rails from the soft top as the top door jambs. This is still just an idea in my head; I don't know how well it would work out yet.
So here I am, contemplating my next round of HMMWV upgrades. It seems I spend more time fixing and upgrading it than I do driving it! :) As long as I'll be lifting off that shelter to work on the cab anyway, maybe it's time to contemplate another total make-over of my truck? There are other body styles that I also like, and since I can't afford to buy one truck in each interesting configuration, I just turn the truck that I have into a different truck every few years or so.
I've always liked the look of the slant-back bodies. I haven't built my truck into one for a few reasons; the body necessary parts have never been cheap in my experience, and I felt compelled to build a shelter carrier anyway since I'm a radio guy, and I don't think it's a common configuration (am I the only guy with a privately-owned HMMWV fully configured with a complete radio shelter on the back, maybe?). A hard top and four doors would be neat, though, and I've never had any of my MVs configured as a weapon carrier before.
I also like the looks of the 4-litter hard-top ambulances. Kurt Lesser brought his to one of the West Coast Military Radio Collector Group events, and it looked like a really cool camper to me. Plus, they have air conditioning! So, this is one of the configurations that I'd consider turning my truck into.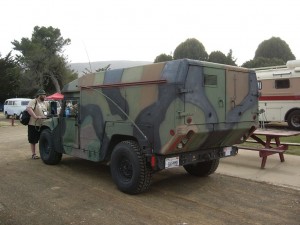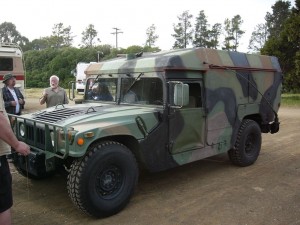 Each of the configurations has its pros and cons:
On the plus side, my current shelter carrier configuration lines up well with my radio-related hobbies, and I think that it's a particularly unusual configuration for a privately-owned HMMWV (I've never seen another privately-owned HMMWV shelter carrier, but I've seen multiple ambulances and weapon carriers). It's also the configuration that I already have, so I wouldn't be spending thousands of dollars on a new set of body hardware. On the minus side, the truck is really tall with the shelter, and it feels a lot less nimble than my previous cargo configurations. The shelter itself does a good job of keeping the weather outside, which is nice for camping, but the soft-top cab does a pretty poor job of keeping the weather outside where it belongs. So, I'm looking at going to a lot of effort to build a better cab for my truck, and the end result will not be an original or correct configuration of the truck.
The slant-back configuration would add my first weapon-carrier to my collection, and it would be the configuration that I find visually the most appealing. It'd restore my two back seats, and it'd give me a hard-top cab. I don't know how good that configuration is at keeping the weather and/or noise out, though, particularly with that roof hatch. It ought to roll better at highway speeds without the big air brake that the front of my shelter creates, but I think the body hardware is still pretty heavy. So, I don't know how my truck would drive in this configuration. I haven't checked the manuals carefully yet, but I think that my upgraded rear suspension should be suitable for this configuration. If I was going to go back to a soft and light cargo configuration, I'd need to either downgrade my rear suspension or throw a lot of extra weight into the back of the truck, because the manuals caution against driving any significant distance in an unladen shelter carrier. That beefed-up suspension needs some substantial weight on top of it to work properly.
If I went with an ambulance, I think the body would cost less than a slant-back, and they look like they should do a good job of keeping the weather outside. I'd probably need to do some work under the hood to get the air conditioner compressor installed. My truck would get longer, and I'd lose the ability to install the Ibis Tek racks that I just spent quite a few dollars on. I'd gain a comfy place to sleep when camping, though, and I could still have some radios in there. Maybe I'd just keep one or two litter spots on one side for sleeping, and set up some sort of desk on the other side? I don't know how the ambulances feel to drive, though.
In any case, I think I'll stay with my existing drivetrain for the foreseeable future. I'd love to have a turbocharged engine and 4-speed transmission, but I think it'd take a lot of work and expense to upgrade those. So, I'm stuck with my 6.2 liter normally-aspirated engine (I think it got the 6.5 liter heads when I had the cracked heads replaced, though), and my 3-speed Turbo Hydramatic 400 transmission. As I understand it, the 4-speed 4L80E transmission doesn't just drop in without changing crossmembers and so forth.
I'd like to hear folks' opinions about the different options I'm considering. In particular, I'm interested in anecdotes about how the different body styles feel to drive compared to each other, how good they are at keeping weather and/or noise out of the cabin, and other such qualitative details.
Since I'd like to get some comments in response to this, I guess I'll also post it over at Steel Soldiers so somebody will actually see it. ;)